Halloween DIYs! Things to Make and Bake this Spooky Season.
2 minutes
October 25, 2019
Trick-or-Treaters Pumpkin Goodie Bowl.
The perfect seasonal décor to offer guests and trick-or-treaters snacks!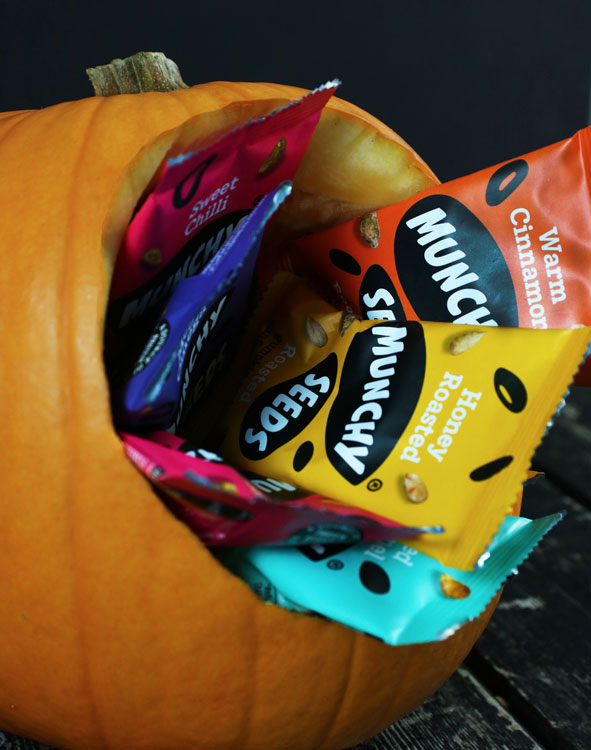 You will need:
Medium Pumpkin
Serving Bowl
Glue
Rope/twine/ribbon of your choice
Snacks!
Cut a hole big enough to fit a medium sized bowl inside on the front of your pumpkin.
Carve out the inside of the pumpkin.
Using PVA glue or (for grown-ups!) a hot glue gun, glue around the edge of the hole and stick your rope/twine/ribbon.
When dry, place your bowl inside your pumpkin and fill with goodies for trick-or-treaters to choose from!

Spooky Snack Packs.


You will need:
Munchy Seeds Snack Packs
Black and white card
Googly eyes
Glue/tape
Cut bat wing shapes out of your black card and using double-sided tape or glue stick to the back of your snack packs.
Cut small triangles out of your white card and stick on the front – these are your bat's teeth!
Stick on your googly eyes and voila! Spooky bat snack packs.

BOO! Berries

Tired of the overwhelming amount of sugar and sweets we consume this time of year? Want something equally delicious and halloweeny but better for you? Try making BOO Berries!
You will need:
Strawberries (and any other biggish berries you'd like!)
White Chocolate (melted)
Munchy Seeds
Melt your white chocolate
Dip your strawberries and whatever other fruit you have chosen in the chocolate and stick two Munchy Seeds on as eyes.
Leave on baking parchment in the fridge to set.

Haunted Halloween Pizzas.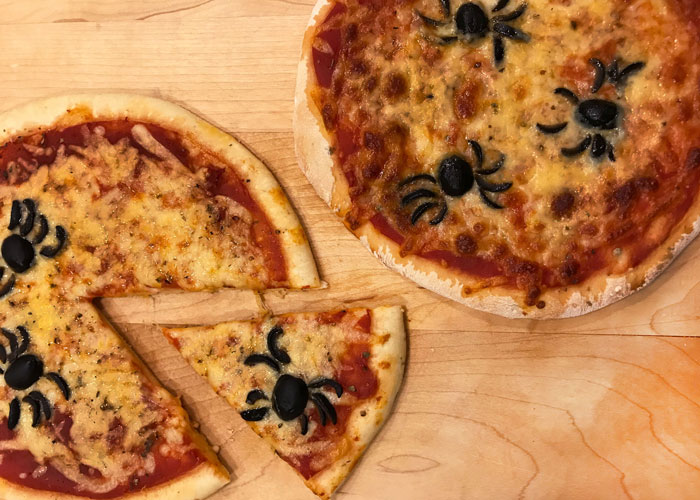 Scrumptious and homemade, these haunted Halloween pizzas can be customised however your little monsters want! Fab as an evening meal with salad or veggies, or chill and send in their lunchboxes.
You will need:
400g strong bread flour
1 sachet dried yeast (7g)
250ml warm water
Tbsn Honey
250g passata
75g Grated mozzarella
Black olives
Whatever other vegetables or toppings you fancy! (Mega Omega work very well on pizza!!)
Pour the sachet of yeast into a jug of 250ml warm water and leave for 5 minutes to help activate the yeast, then pour into a large bowl with your 400g flour and mix.
Use your hands on a floured surface to work the dough for 2-4 minutes until well combined. Leave for 15+ minutes to rise.
Roll out your pizza dough and place on baking trays dusted with flour (this helps your dough to not stick)
Get creative! Top your dough with passata and whatever toppings you want to make spooky shapes and Munchy monsters before baking in a pre-heated oven (180°C) for 10 minutes or until the crust of your pizza is crispy and golden and the cheese has melted.