Alice's Flavour-Fuelled Adventure!
2 minutes
November 6, 2019
9 days. 950 people. 990 miles. Oh and a few seeds too.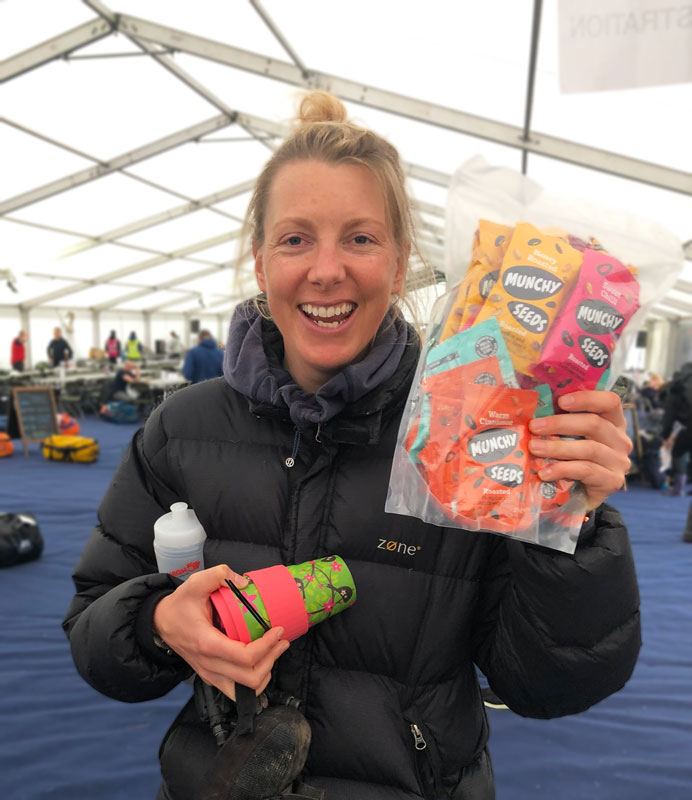 On 7th September 2019, Alice Montgomery (one of Munchy's New Zealand friends) cycled the iconic Deloitte route across, well, technically 'up', Britain. The well-known bike ride begins in the south at Lands End and finishes a mere 990 miles north at John O'Groats. Not exactly a small feat. Alice, and the friends she made, would cycle an average of 110 miles per day, with their longest day consisting of 127 miles! It was a gruelling and tough challenge, but according to Alice, 'one of the best weeks of [her] life'.
*What was the best part of your trip?*
"I honestly couldn't pick a favourite moment! If I could have cycled for a few more days to continue the laughter and madness I would have. I entered this without being a cyclist in March, of course it was tough, but it was a thoroughly enjoyable challenge!"

That much cycling requires a LOT of energy, so of course we donated some snack packs to keep the gang going on their ride. We here at Munchy Seeds champion the power of seeds and want to use our little seed snacks to fuel BIG adventures!


Not only did the group cycle almost 1,000 miles, but Alice also raised over $9,000 (and still going! Donate here) for The CatWalk Trust – a charity that support researchers in the bid for a cure for spinal cord injuries. After seriously injuring her leg in a horse accident less than 2 years ago, Alice regained her strength, got back on the horse and got on the bike too.
*What's your favourite Munchy Seeds flavour?*
"That's a tough one. They are all delicious! On the bike I ate a lot of Sweet Chilli seeds. In the mornings I would sprinkle the Warm Cinnamon ones on top of the numerous bowls of porridge I consumed!"
Us Munchy Seeds crew are so insanely proud of Alice! She picked herself back up when things got difficult, powered on through and endured physically draining stretches, and had a great time getting outside and making new friends. She is the ULTIMATE Munchy Explorer, and we were so grateful to be able to flavour-fuel her adventure, both this one and the many more to come!
*What is your next Flavour-Fuelled adventure going to be?*
"There's a couple of cycling things lined up for next year. One is called 'Chasing the Sun' which takes place on the longest day of the year and is 200 miles in one day! I might do a couple of running events as well to shake it up a bit!"