Breakfast Bowls
1 minutes
January 4, 2022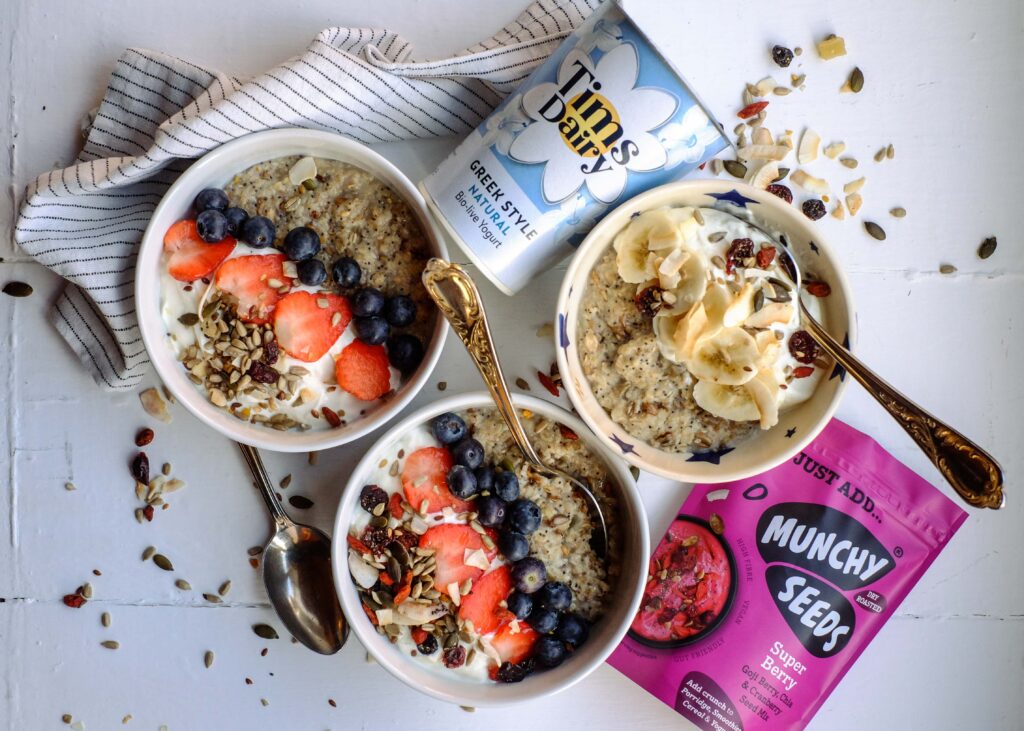 Healthy, 'get-go' breakfast suggestions for the best start to every day.

Breakfast is not only delicious but creates a fresh opportunity every morning to enjoy a bowlful of great tasting goodness that contains plenty of fibre to help keep your gut happy throughout the day.
Here are a few quick and easy suggestions for you to keep in mind when building your weekday menu and ensuring delicious variety to look forward to when you wake up:-
Monday:– Granola with Greek style natural yogurt, fresh mango slices and a generous sprinkling of our Totally Tropical seed mix, which contains coconut flakes and nutritious pumpkin and sunflower seeds.
Tuesday:– Oaty porridge with yogurt, fresh berries (raspberry, strawberry, blueberry), scattered with our Super Berry seed mix which adds an extra burst of goji berries and fibre from our natural seeds.
Wednesday:– Muesli with Greek style honey yogurt, some freshly sliced bananas and a handful of our Cacao & Apricot seed mix, bringing a deep and rich flavour with the benefits of dark cacao nibs and seeds.
Thursday:– Overnight oats (takes 10 mins) – simply mix some oats, bran, yogurt, grated apple and berries, cover in a bowl and chill in the fridge overnight. In the morning, sprinkle any of our breakfast booster seed mixes on top and enjoy … yum!
Friday:– Try our energising smoothie suggestions for a real pre-weekend boost of nutrients and naturally roasted seeds.