Evelyn's Flavour-Fuelled Adventure!
3 minutes
November 25, 2019

Our latest Flavour-Fuelled Adventurer was Evelyn, AKA @trainwithevelyn. We sent her some Munchy Seeds to keep her Flavour-Fuelled as she hiked, trekked and munched her way around the Annapurna Circuit. Read below to hear all about her adventure… and her favourite Munchy Seeds flavour!
On the 13th October, Evelyn flew out to Kathmandu in Nepal to take on the Annapurna Circuit – a trek within the mountain ranges of central Nepal, with the highest point at Thorung La pass (5,416m/17769ft). Over 11 days she trekked over 200km, with an elevation gain equivalent to climbing Everest! This was completed without a guide and carrying all her own supplies and daily water for the trip (approximately 15kg). Temperatures during the trip ranged from 28 degrees Celsius in the lower foothills, to -15 degrees Celsius!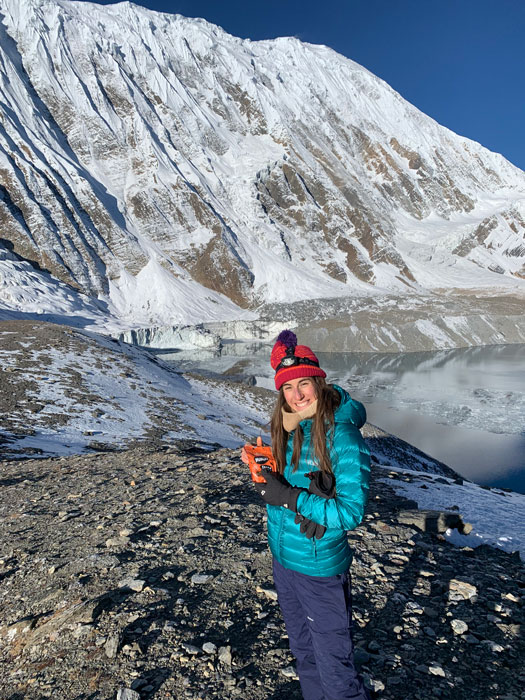 What was the most memorable part of your adventure?
Having previously suffered from altitude sickness whilst summiting Kilimanjaro, I was really paranoid about not reaching the highest point of the trail! I visualised it the whole way – determined that I was going to touch it. We began our attempt to reach the Thorung La pass at 5.00am. It was -15 and pitch black outside apart from the glistening stars and the light from our head torches. The first hour was a hard, steep ascent in the freezing conditions. For the next few hours we faced mound after mound, hoping that after each we would see the sign – it felt like it would never be on the horizon. Eventually it was there – I could see it, adorned with prayer flags! When I touched it was the best feeling in the world!

As you can imagine, making sure she was sufficiently fuelled to take on steep climbs and effectively recover was key throughout. We sent her off with some Munchy Seeds snack packs (perfect for stuffing in your coat pocket and munching on the go!) and a big old sharing pack of Warm Cinnamon to help spice up her breakfast.
What is your favourite munchy seed flavour?
It has to be the Warm Cinnamon Munchy Seeds! They are a perfect addition to a warming bowl of oats and chopped apple – my breakfast of choice on the mountains. I also found that a handful was a great energy kick to fuel me up the steep sections of the trek. Thanks for fuelling my adventure!
What was the most unexpected challenge you faced?
I'm quite a fit person but I think I underestimated how difficult it would be trekking for 11 days straight with 15kg on my back and attempting steep ascents (particularly with extremes in temperature). However, I loved the challenge and have already begun planning for a bigger and higher summit…!

Hiking and walking are great ways to be getting out and active and can be done literally anywhere! If you're feeling inspired by Evelyn's hiking, (but not quite ready to fly out to Nepal!) why not try one of ur favourite walks in the UK:
Hadrian's Wall National Trail: This ancient wall built to protect Roman England from Scotland is still intact and makes a spectacular walk from one side of northern England to the other. To do the trek in its entirety takes 6 days, but you can pick the route up along the way for a shorter walk.
Causeway Coast Way: One of Northern Ireland's most fascinating sights, Giant's Causeway, is the focus of this route, which is 33 miles and takes 2 days. Again, there are plenty of shorter routes along the way for walkers who don't fancy going the whole hog!
Old Harry Rocks, Isle of Purbeck: Take in the most famous landmark on the Dorset Coast – Old Harry Rocks – on this walk that starts at Knoll Beach and gives you a great view of Dorset's picture-perfect white cliffs.
Bickling Estate, Norfolk: One of our favourite local National Trust properties, Bickling Estate is a stunning historic country house and gardens set in picturesque Norfolk countryside, perfect for a gentle walk for all the family.
Along the Suffolk coast: In our lovely home-county of Suffolk, our favourite walk is along the unique coastline of the Suffolk Coast Path, which trails all the way from Felixstowe, along the River Ore and the River Alde, to the picturesque seaside town of Aldeburgh.
If you are planning on heading off on your own Adventure and want to make it a Flavour-Fuelled one, let us know! We'd love to consider you for our next Flavour-Fuelled Adventure blog post. Click here for more information.
To read Helen's Flavour-Fuelled Adventure, click here.
To read Alice's Flavour-Fuelled Adventure, click here.