Munchy's Perfect Autumn Night In
3 minutes
November 25, 2019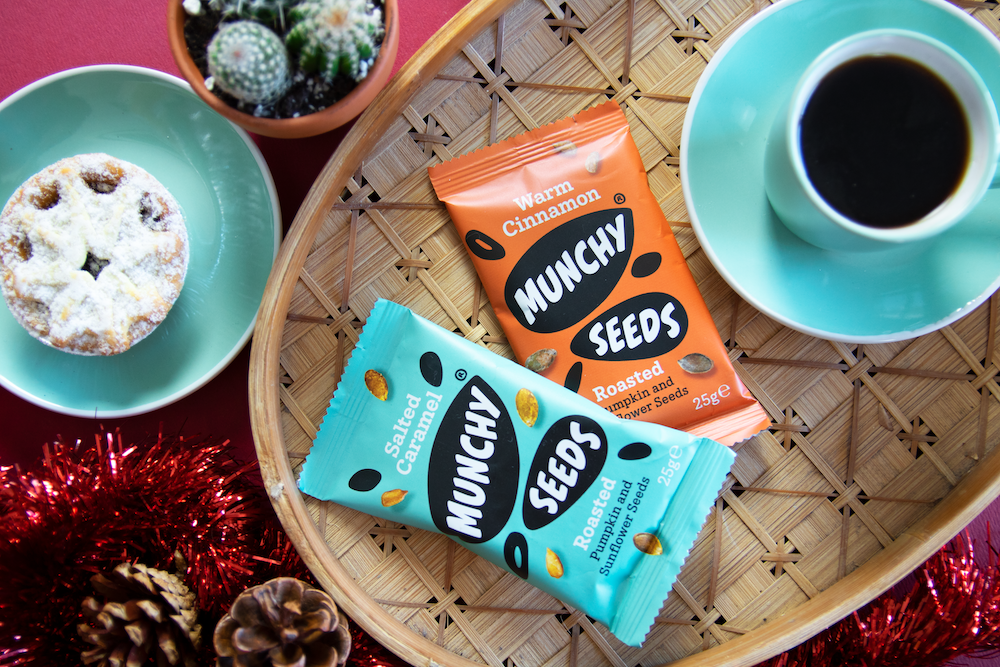 It's the ideal time of year to have a cosy night in; the clocks have gone back and winter has definitely arrived. There's no better feeling than putting on your slippers, maybe lighting a candle, and settling in for cosy night of doing not much at all. No night out can compete with that!
In honour of your Big Night In, we've compiled the Munchy list of 5 night-in essentials – including what to eat, what to watch and what to do. Blankets at the ready? Let's go!
Your cosy night in checklist:
Warming winter soup: No food is as comforting as a big bowl of hot soup. One of our favourites is Chargrilled Red Pepper and Tomato Soup! See below for the recipe:
Chargrilled Red Pepper and Tomato Soup


Ingredients (Serves 2)
2 peppers (ideally red, orange or yellow)
1 tin of chopped tomatoes
500ml vegetable stock
1 onion, finely chopped
1 large clove of garlic
Finely chopped 1 bay leaf
1 teaspoon of coconut oil or butter
Sea salt and black pepper
Sweet Chilli Munchy Seeds
Natural yogurt and fresh parsley to serve (optional)
Method:
To chargrill the peppers, preheat a grill. Chop the peppers by slicing them length-ways down all 4 sides. This should produce 4 flat pieces. Cut the bottom and top off to form a further two flat pieces. Put the pepper pieces on a baking sheet, skin side up and grill until the skin has blackened and blistered. The idea is to char the skin but not to burn the peppers. This step sweetens the peppers slightly so don't skip it.
Allow the peppers to cool then peel off and discard the charred skin.
Heat the coconut oil or butter over a medium head, add the chopped onions and cook until softened (5-10 minutes). Add the garlic, season the mixture well with black pepper and sea salt and cook for a further minute.
Stir in the chopped tomato, add pepper pieces and vegetable stock, stir well and bring to the boil. Reduce the heat to low/medium and cook the soup for 20-30 minutes until it reduces in volume somewhat. Take the soup off the heat, season again with black pepper and sea salt and blend using a stick blender.
To serve, divide the soup between two bowls, top with a swirl of yoghurt, some torn parsley and a handful of Sweet Chilli Munchy Seeds.
A board game selection: Whether you go crazy for Cluedo or mad for Monopoly, an autumnal night in is a great time to crack out a couple of your favourite board games for some cosy family fun. The Munchy HQ favourite? Obama Llama – a silly rhyming charades game that'll have everyone laughing.
Sweet Treats: Our recipe for salted caramel and raspberry brownies is not only easy and family-friendly – it makes delicious, moreish brownies that'll have you fighting over who gets the last one. Happy baking!
A selection of snacks: Whether you fancy baking up an extra batch of brownies or chowing down on some Warm Cinnamon Munchy Seeds, make sure you've got your snacks sorted.
A feel-good film: Now's not the time for a weepy drama or a hard-to-follow spy film – a cosy night in calls for a rom-com, or at the very least a family-friendly favourite that's easy viewing. Some of our favourites at Munchy HQ include When Harry Met Sally, any of the Harry Potter films or, for festive family favourites, Home Alone or Top Gun.

Enjoy your autumn night in! Which is your go-to Munchy Seeds flavour for your movie snacks? Let us know by tweeting us @munchyseeds!
See more big night in recipes here.
Get your cosy evening snacks sorted here.