The Evolution of Breakfast
"TO EAT WELL IN ENGLAND YOU SHOULD HAVE BREAKFAST THREE TIMES A DAY" – W. Somerset Maugham (1874-1965)
The traditional full English breakfast is a centuries old British breakfast tradition, one that can trace its roots back to the early 1300's. In one form or another, the tradition of a uniquely English breakfast is one that has been proudly sustained over the centuries by different generations of British society.
But how things change! The last 18 months have led to a new focus on diet and the role of healthy breakfasts in physical and mental health. Today the trend is for seeds, nuts, fruit and yogurt – and this is why we launched our new Breakfast Boosters range. They give you more variety and a mix of seeds in your diet – at any time of the day – but still a healthy mix of nutrition and indulgence.


But, we do salute Mr SM's belief and whether it's a full English or a more modern twist with our seeds, the history of this great tradition is very interesting.
Here's a brief timeline to enjoy:-
13th Century – the English breakfast becomes a bit of an institution and is adopted in the country houses of the English gentry, who considered themselves true lifestyle gurus and the cultural heirs of the Anglo Saxons. They held breakfast feasts before going out to hunt and the breakfast table was an opportunity to boast their great wealth and high quality meats and vegetables.
18th to 19th Century – the gentry were in decline and the new Victorian wealthy class made up of merchants, industrialists and businessmen was emerging. For these aspiring social classes adopting the notion of the English breakfast as an important social event became de rigeur. They even raised the level by getting more exotic ingredients and purported the theory that breakfast was the most civilised way to start the day.
20th Century (early) – the Edwardian era became known as the golden age of long leisurely breakfasts, leading up to the First World War. It was during this time that the first recognisable 'full English breakfast' began to emerge and at this point the middle classes began to eat it on a regular basis. Eating breakfast before starting the day provided an increasingly mobile workforce with energy.
The 1950's – by this time the English breakfast becomes a working class staple with eggs, bacon & sausage (and a whole host of other favourites such as beans, black pudding, fried tomatoes and mushrooms) served in cafes that became known as 'Greasy Spoons' often located in industrial areas, and for a long time these were the best places to get a real English breakfast.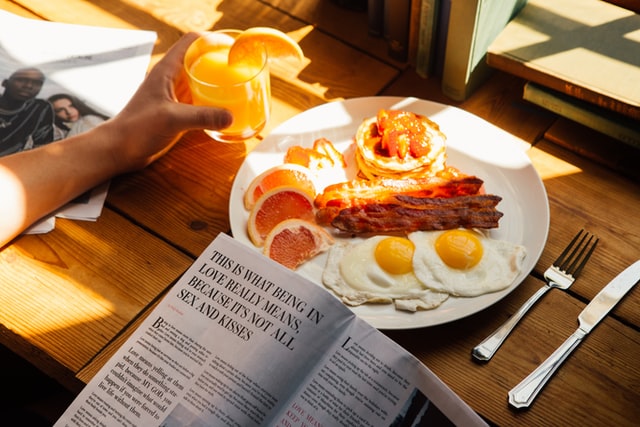 Breakfast today:
Most people nowadays enjoy either a savoury toast or cereal and fruit start to the day. There are a whole host of breakfast dishes such as toast & marmalade, porridge, overnight oats, granola and other cereals, plus a delicious range of brunch favourites such as avocado and poached egg on sourdough toast, scrambled egg or omelettes galore. Perfect for our seed mixes of course!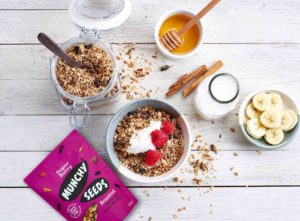 We're so lucky, as the trend for breakfast at any time of the day is growing and it has become many people's favourite meal of the day. It's now one of those meal occasions that combines goodness with great taste and gives a moment's pause for meditative thought about the day ahead. The inspiration for breakfast ideas has grown and grown, and now our new Breakfast Booster range makes for an easy win with all types of cereals, yogurt and porridge. You can even use our JUST ADD… Savoury Sprinkles to really tasty effect on your eggs or avocadoes – even on your full English if that's what takes your fancy.


Whatever the case, it's exciting that breakfast can be a simple snack or a grand feast and we've got some delicious breakfast recipe ideas for you to enjoy here.
Whether it's full English, chocolate porridge, a healthy smoothie or a brunchy avo on toast, we've got bags of inspiration in the form of healthy, tasty seeds which you can sprinkle atop your brilliant breakfast to add crunch, flavour and lots of healthy goodness.
In conclusion, we believe you can enjoy breakfast three times a day, but we believe that it's the variety of options which makes this supremely possible!
*Thanks to the English Breakfast Society for some of the interesting content in this blog