Vegan Living with @Cathyes.world
I was really excited when munchy seeds reached out and asked me to write a blog post for them. I've been a fan of their products for years, way before I even stared my vegan food page (@cathyes.world) on Instagram. Munchy Seeds were the first brand to ever send me any PR products, so it feels like I've come full circle to be writing and creating recipes for them.

The fact that I have a food page should have given you the heads up that I'm a foodie. My days revolve around food, and I'm constantly planning what dishes I can make next. One of the things I love to do is to find creative ways to use seeds as a healthy addition to my meals, and I almost always add some to my breakfast. Porridge is my go-to breakfast, it can be adapted to suit any mood, with whatever toppings you like: fruit and berries, yoghurt, syrup, nut butters, and the one topping I never go without – Munchy Seeds, and you can now try their new Breakfast Boosters.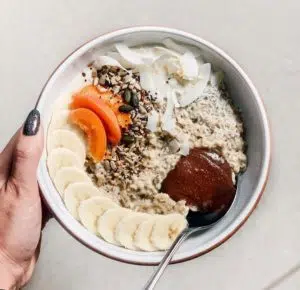 My favourite sweet flavour is the Salted Caramel (probably because it's got coconut in). Seeds are full of healthy fats and protein and I find that making sure I've got these two things in my breakfast ensures that I stay fuller for longer and that I'm fuelling myself properly for my day.
I've always been a pretty active person, and through the last year (in and out of lockdown) I've had to find different ways to keep active – from running, to home workouts and yoga. Yoga has recently become one of my favourite forms of exercise. The breathwork involved helps me relax and release any stress, as well as increases my awareness of myself and my surroundings, and overall, I find it really benefits my mental health. Combining regular physical activity with a balanced vegan diet is just one of the ways I try to look after my own personal wellbeing!
Keep an eye out on my Instagram for easy vegan recipes, ideas on how to use your Munchy Seeds and to follow along on my food and yoga journey!
Also, try my delicious vegan Lentil & Mushroom Lasagne with a healthy munchy seed crumble …. delish!