Harvest Apple Crumble
Easy: Prep 25 mins: Cook 25 mins
Guaranteed the most delicious apple crumble you could enjoy and it's ultra easy too. Our Salted Caramel seeds complement the caramelised topping and add an extra tasty crunch which is perfect for an indulgent autumnal dessert.
Top Tip: if you add our seeds there's no need for sugar in the apple – even yummier!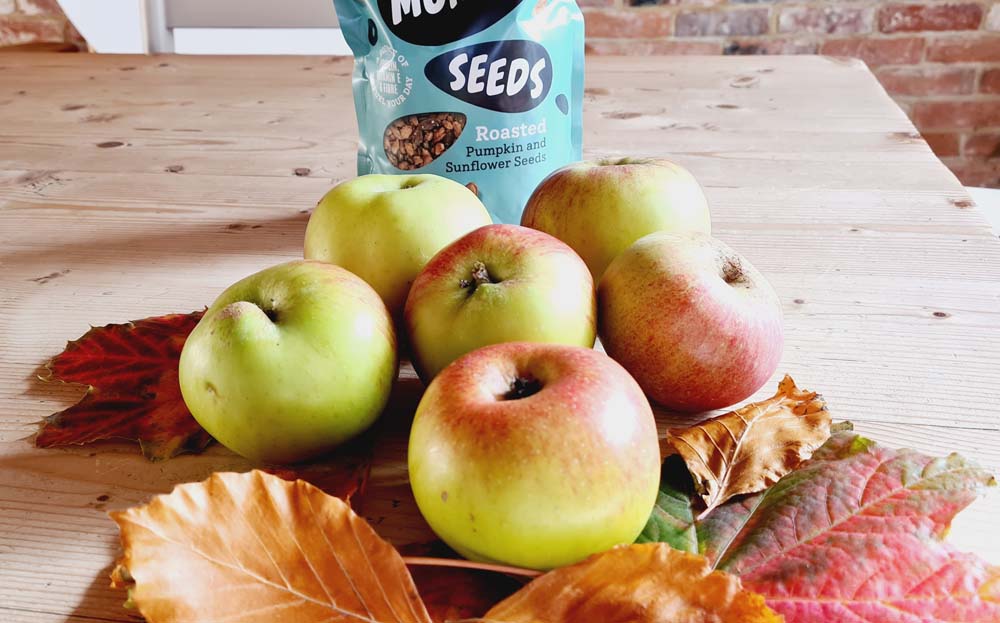 Ingredients:
1kg cooking apples
100g unsalted butter (plus an extra knob for the apples)
2 tsp cinnamon
6 Weetabix
75g dark soft brown sugar
2 tbsp golden syrup
3 tbsp of our Salted Caramel seeds
Method:
Turn on your oven to 170C fan.
Peel and chop the apples. Put them in a heavy based pan over a low heat with 25 ml water and the knob of butter. Put a lid on top and slowly stew them until they are soft or nearly mushy. Stir in the cinnamon.
In another pan gently melt the remaining butter, take off the heat and stir in the sugar and the syrup. Crunch up all the Weetabix and stir into the butter syrup. Mix well so that all of the topping is coated well.
Grease a baking dish with butter paper. Put the stewed apple in the dish then top with the crumble mix. Sprinkle with the Salted Caramel seeds and put in the oven. Cook for 20-25 minutes or until the topping is a deep golden colour and looks crunchy.
Serve with your favourite ice cream or yogurt and enjoy. If you do not eat it all it will keep in the fridge for up to 3 days.