Cacao & Apricot Quick Breakfast
Chocolate for breakfast anyone?
Well now you can go for it. Enjoy the healthiest form of chocolate – Cacao Nibs – and create a little bit of indulgence combined with ultimate taste and wholesome goodness, in a jiffy.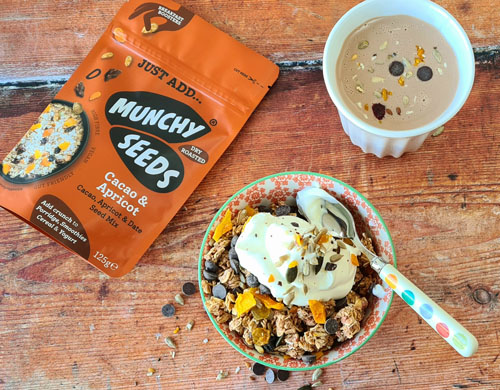 This is so simple and so rewarding, we love it here a Munchy HQ:
Simply grab a bag of our Cacao & Apricot Breakfast Boosters, your favourite granola and your favourite Greek style yogurt (we recommend @timsdairy).
Create your perfect breakfast bowl and sprinkle the seed mix liberally on top. Serve with a dark hot chocolate and all your choccy cravings will be thoroughly satisfied.
The great news is that very dark chocolate contains polyphenols and flavanoids which can be good for the circulation and blood flow to the brain, so this breakfast choice is the ultimate intelligent choice!
We just love that excuse anyway!