Dark Chocolate Cookies
Moderate: Prep 30 mins: Fridge 20 mins: Cook 15 mins
These are 100% chocolate and salted caramel heaven!

If you want to create speedy cookies or have a quick treat dessert waiting in the freezer ready to pop in the oven, then these rich and luxury dark chocolate salted caramel cookies are the ultimate answer.
Try these out and we dare you to say "no" to one!
Makes approx 8-10 cookies.
Ingredients:
125g butter
65g soft brown sugar
75g dark 70% solids chocolate (you can use a mix with milk chocolate if you prefer)
30g cocoa powder
125g SR flour
Munchy Seed's Salted Caramel Seeds
Method:
Line a roasting tray with greaseproof paper, lightly greased with butter paper.
Melt the butter and chocolate gently over a low heat. Stir in the brown sugar until dissolved. Remove the pan from the heat and stir in the cocoa powder until smooth.
Stir in the flour really well then leave to cool for 10 minutes – the mixture thickens up during this time, so do make sure you leave it to stand. It should end up looking like this …


Gently roll the mixture into large golf ball size balls and place evenly spaced on your prepared tray. Make holes in the top of each cookie (we use an upended pastry brush), see below …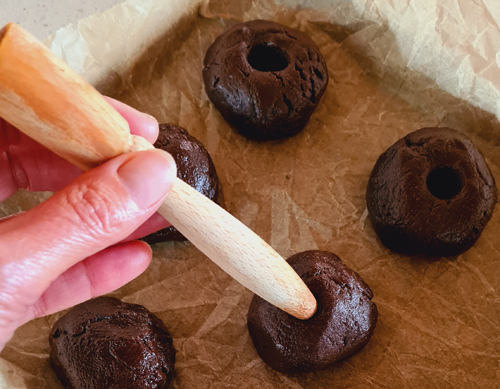 Then sprinkle your salted caramel seeds inside the holes and press in gently. Like so …


At this point you can either put your mixture in the fridge for 20 minutes or freeze it for a later date. If you freeze them, after 30 minutes transfer the frozen balls into a bag or tupperware (read more on our DIY Food Cover blog here) and save them until you just want to get them out to order and pop in the oven to cook.
If refrigerating, turn on the oven to fan 170C and after 20 minutes put the cookies in the oven. Check them after 10 minutes, but they will probably need 15. Once they have slightly spread and cracked, remove from the oven to cool. Enjoy with yogurt or as a gorgeously decadent treat at any time of the day.