No Bake Maple Ganache Brownies
Moderate: Prep 20 mins: Cool 3 hours or overnight
We've teamed up with the awesome The Great British Porridge Co and The Protein Ball Co to bring you this mind-blowing, tastebud-tingling maple brownie recipe!
Makes 10.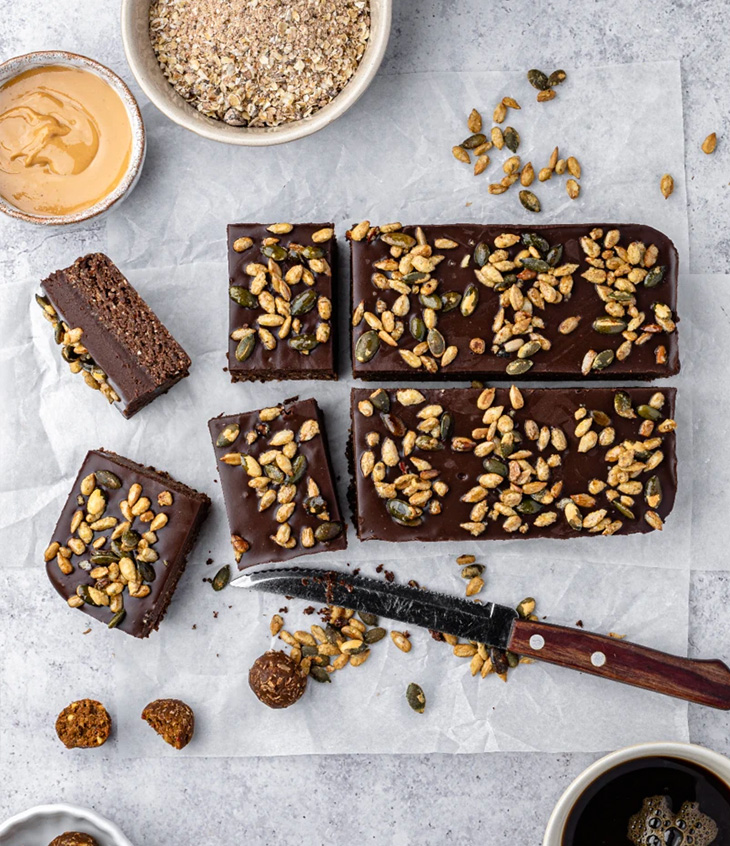 Ingredients:
For the Base:
120g The Great British Porridge Company Classic Chocolate
2 packs (50g) of Munchy Seeds Honey Seeds
50g ground almonds
50g raw cacao powder
2 packs (90g) The Protein Ball Company Goji and Coconut
150g pitted Medjool dates
2 tbsp (30g) almond butter
For the Ganache:
120g coconut oil, melted
50g raw cacao powder
100ml maple syrup
1 pack of Munchy Seeds Honey Seeds
Method:
Line a large loaf tin with baking paper and lightly grease with spray oil or coconut oil. Place porridge, seeds, almonds and cacao powder into your food processor and blend so that you have an even fine crumb. Transfer mixture to a bowl. Add dates, almond butter, and protein balls to the food processor and blend to form a paste.
Break up the paste and return the dry ingredients to the food processor. Blend until you have a dough that holds together between your finger tips; it shouldn't be sticky. Place mixture into prepared tin and press down with your finger tips and spread evenly. Mix together cacao powder and melted coconut oil in a jug using a whisk.
Add the maple syrup and whisk GENTLY as you don't want the mixture to split. If the ganache splits (looks grainy) add 1 – 2 tbsp of boiling water and gently whisk to create a silky smooth consistency. Pour over the brownie base. Sprinkle seeds over the top and allow to cool at room temperature for 1 hour before placing into the fridge to set for at least two hours or overnight.
Slice into ten thick bites. Store in the fridge in a sealed container for up to 2 weeks.