Spicy Tomato & Black Olive Pasta
A delicious bowl of spicy tomato and black olive pasta topped with your favourite savoury Munchy Seeds. Perfect for a mid-week evening meal, tasty lunch with a salad or great for Tupperware boxes.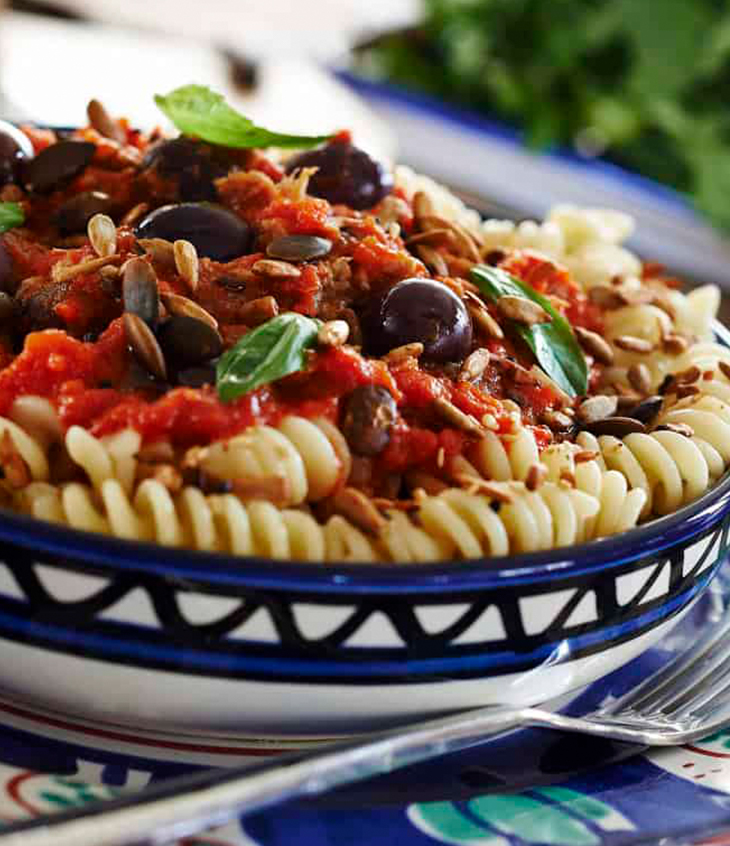 Serves 4.
Ingredients:
1 clove garlic
1/2 tsp chilli flakes
2 tbsp olive oil
1 jar of tomato passata
1/2 cup black olives
basil leaves, garnish
Parmesan to garnish
a handful of your favourite 'Munchy Seeds' for topping – we recommend Mega Omega or Mild Chilli
penne pasta for 4
Method:
Gently fry the garlic in olive oil for 3 minutes, add chilli flakes (optional). Add the pasta and black olives, simmer for 10 minutes. Pour over the freshly cooked pasta.
Garnish with torn basil leaves, Parmesan and a generous handful of Munchy Seeds (Mild Chilli or Mega Omega seeds). Delicious served with garlic bread & a fresh green salad sprinkled with 'lashings' of Munchy Seeds.