Banana Loaf with Vanilla Cashew Cream
Moderate: Prep 20 mins: Cook 45 mins
Few foods are as satisfying as cake – and it can be guilt-free. 
This nutritionist-designed recipe is gluten, dairy and refined sugar free, yet it is every bit as 'cakey', gooey and tasty as regular cake, just better for you. Flour is replaced with gluten free oats and regular sugar is substituted with dates creating a higher fibre content. The vanilla cashew cream crowns this banana loaf, adding a whole new dimension of creamy sweetness. Top it with our Honey Roasted seeds for that added crunch and extra goodness.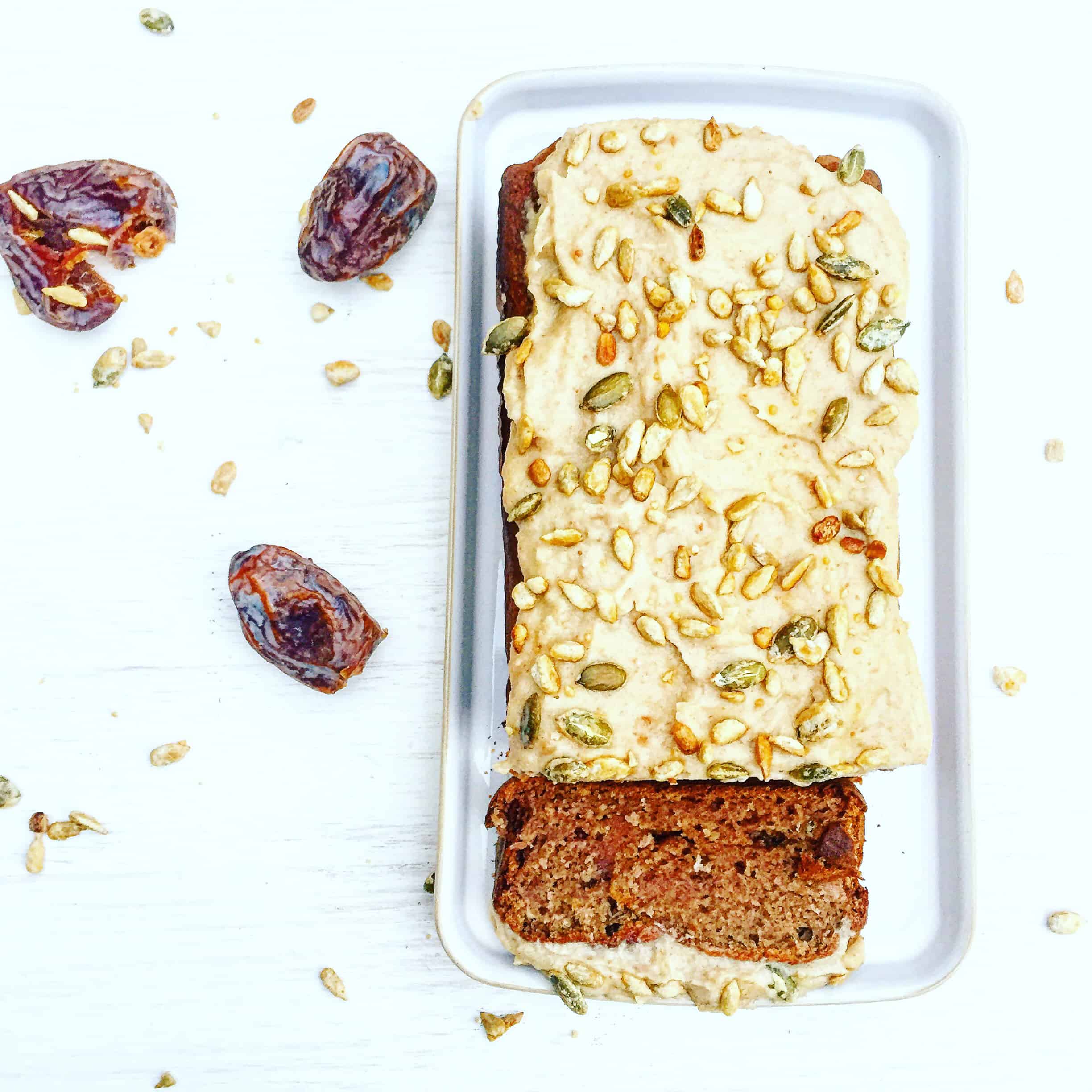 Ingredients:
For the banana loaf:
150g gluten free oats
1 tsp of baking powder
3 ripe bananas (300g)
80g coconut oil, melted
10 Medjool dates (180g), pitted
 5 drops of vanilla extract
1/2 tsp cinnamon
3 medium eggs
For the cashew vanilla cream:
150g raw cashews
4 Medjool dates (70g), pitted
5 drops of vanilla extract
To top:
1 pack of Honey Roasted Munchy Seeds
Method:
Preheat the oven to 180C. Line a loaf tin with greaseproof paper. Blend the oats in a high speed blender until finely ground. Decant into a large bowl and mix with a teaspoon of baking powder.
Put the bananas, dates, vanilla extract, cinnamon and melted coconut oil into the same blender and blend until smooth. Crack in the 3 medium eggs and blend again until well combined. Stir the wet mixture into the oats using a spatula and pour into the lined loaf tin. Bake in the oven for 45-50 minutes.
Once done, remove from the oven, peel off the greaseproof paper and cool completely on a wire rack.
To make the cashew cream, rinse the cashews in cold water. Put the cashews, dates, vanilla and water in a high speed blender and blend until smooth. You may need to scrape down the side of the blender a few times if the mixture sticks. Spread the cashew cream over the cake and sprinkle with delicious Honey Roasted seeds.