Roasted Butternut Squash with Savoury Sprinkles
Moderate: Prep 20 mins: Cook 30 mins
We've prepared this recipe for National Vegetarian Week, but we enjoy it at many other times of the year too. These steak sized portions of the humble butternut squash make a real centrepiece and the flavour of garlic and spices infuses perfectly with the softly roasted butternut flesh.
Serves 2 to 4 (dependent on size of the squash)
Ingredients:
1 medium butternut squash
2 cloves of garlic, crushed
2 tsp smoked paprika
1/2 tsp chilli powder
several glugs of olive oil
3 tbsp of flaked almonds (toasted)
sea salt and black pepper to season
Greek natural yogurt or coconut yogurt if you want a vegan version
a generous handful of your favourite Savoury Sprinkles – we have used Spicy Peri Peri here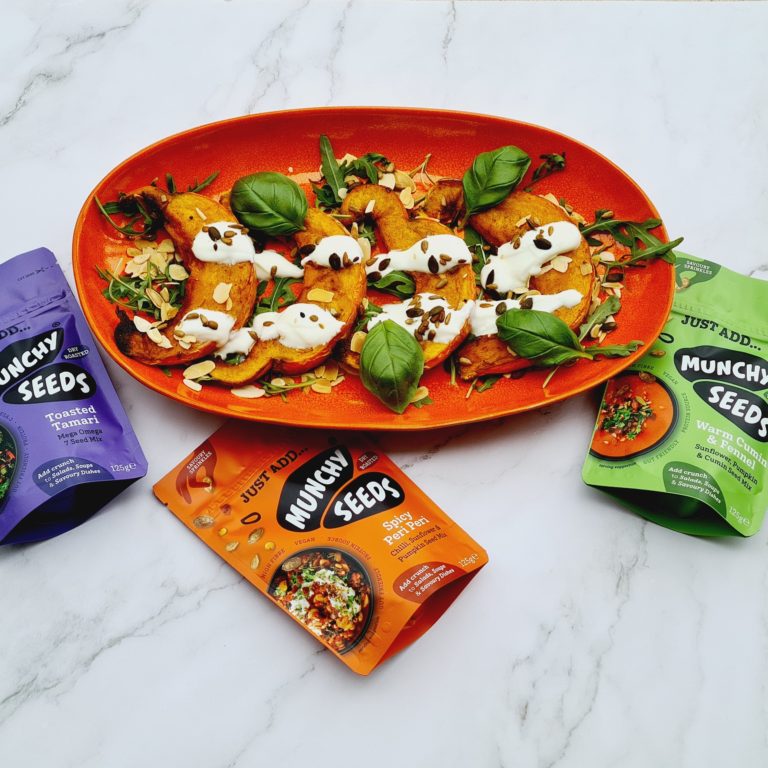 Method:
Preheat the oven to 200 degrees C. Mix the olive oil, garlic and seasoning together. Slice the butternut squash in half and scrape out the seeds. Cut into thick slices (as pictured).
Put into a large bowl then with your hands mix the olive oil mixture in well. Place them on a baking sheet and roast in the oven until completely cooked, approximately 30 minutes.
Meanwhile, put your almond flakes on a baking tray and put on an underneath shelf of the oven for 5 to 10 minutes, until lightly toasted. Keep an eye on these. When roasted to perfection set out on a plate, sprinkle with toasted almonds and savoury seeds then drizzle some yogurt and a little more olive oil over before serving – for a really tasty lunch or supper!
We love this main dish after a tasty starter of our Beetroot Hummus.