Peri Peri Macaroni Cheese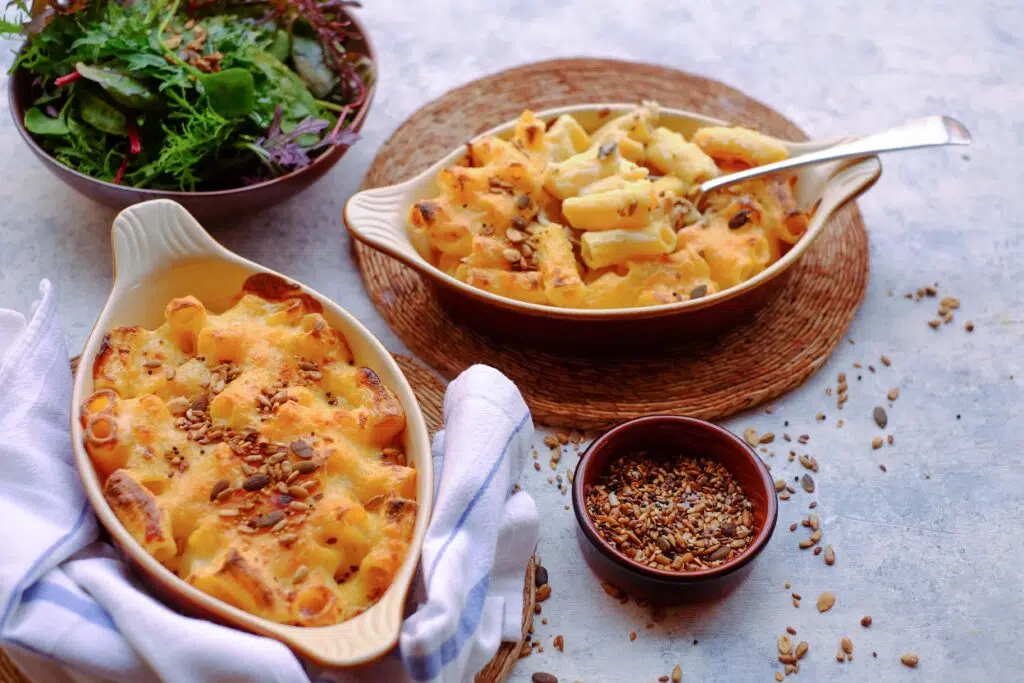 Here's how to spice up an all-time kitchen favourite This perfect baked macaroni cheese recipe originally from BBC Good Food comes with a creamy cheese sauce, a hint of mustard and instead of using leftover French stick for its crunchy topping we use our spicy Peri Peri seed mix for a tasty healthy crunchy spicy kick.
Serves 4.
Ingredients:
2 tbsp butter, plus 1 tbsp melted
350g spiral or other short pasta – we used big macaroni
1 garlic clove, finely chopped
1 tsp English mustard powder
3 tbsp plain flour
500ml whole milk
250g vegetarian mature cheddar, grated
50g parmesan (or vegetarian alternative), grated
Spicy Peri Peri Munchy Seeds
Method:
Heat oven to 200C/180C fan/gas 6.
Boil the pasta for 2 mins less than stated on the pack, then drain. Meanwhile, melt the butter in a saucepan. Add the garlic and English mustard powder, cook for 1 min, then stir in the plain flour.
Cook for 1 min more, then gradually whisk in the milk until you have a lump-free sauce. Simmer for 5 mins, whisking all the time until thickened. Take off the heat, then stir in the cheddar and half the parmesan.
Stir the pasta and some seasoning into the cheesy sauce. Tip into a large ovenproof dish, or four individual dishes.
Scatter over the remaining parmesan, then bake for 20 mins at 200°C/180°C fan or gas mark 6 until crisp and golden.
We like to crisp our cheese topping until the grill for approx 5 mins.
Scatter our roasted seeds into the crisp melted cheese for a healthy tasty zing.
Recipe Tips:
Crumble 50g Stilton, Dolcelatte or Roquefort into the sauce, instead of the parmesan. Drizzle with a little oil, season, then top with a little more blue cheese. Bake as before.