Honey Seed & Vanilla Fudge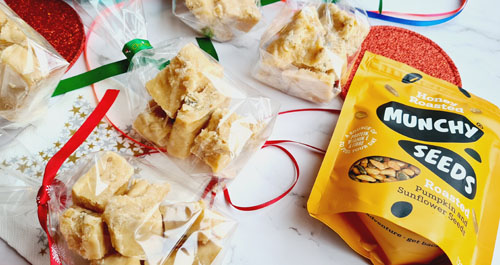 Who doesn't love a homemade food gift? So why not try this mouth-watering, creamy Honey Seed & Vanilla Fudge? It's a guaranteed crowd-pleaser.
There is so much joy in creating your own gifts at home and we are sure it tastes all the better!
This makes 6 to 8 bags of fudge, with plenty left over for you to devour. It keeps for about 3 weeks (if you have the willpower to keep it that long).
Makes 6 to 8 bags.
Ingredients:
125g butter, cubed
397g can of condensed milk
460g light brown sugar
150ml whole milk
75g of our coated Honey Roasted Seeds
2 tsp vanilla essence or vanilla bean paste
Method:
Line a 20cm square cake tin with baking parchment and wipe some butter paper over it. Put the butter, condensed milk, sugar and milk in a large saucepan over a low heat.


Stir until the sugar dissolves then bring to a vigorous boil, continuously stirring for 10 minutes (so that it does not caramelise on the bottom of the pan) until the mixture gets to 115C, or, test by dropping a small piece in some in cold water to check that it forms a squidgy ball.


Add the vanilla then whisk until it cools to about half the temperature. The fudge should be thick and smooth looking. Add the seeds and stir in well.


Spoon the mixture into your tin and smooth it over with a knife, then leave to set. Once set firmly cut into squares.
Buy some clear cellophane 'sweetie' bags (often your local shop or bakery will sell you a few). Bag them up then decorate with celebratory bows – voila! Beautiful handmade, great tasting gifts ready to hand out.