Seeded Buttermilk Loaf
Moderate: Prep 10 mins: Cook 60 mins
If you bake something this week, let it be this!
Inspired by Gail's Bakery recipe our Seeded Buttermilk Loaf has to be the most simple and rewarding bake we've ever done. It uses our Lightly Toasted 7 Seed Mix and takes the pleasure of baking and eating to a new level.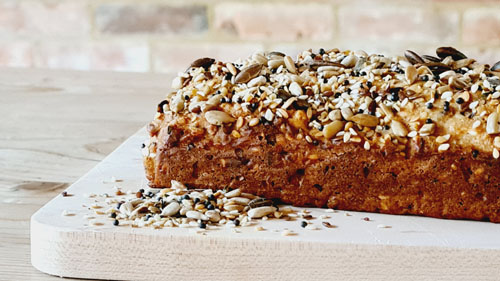 You'll need a small loaf tin, about 19cm by 8cm. This loaf can be made in the morning to be enjoyed by everyone for lunch or afternoon tea.
Ingredients:
55g strong white flour
55g strong wholemeal flour
1 tsp baking powder
1 tsp fine sea salt
40g rolled oats
4 heaped tbsp of our Lightly Toasted 7 Seed Mix
175ml buttermilk
50g golden syrup (or treacle)
4 tsp rapeseed or sunflower oil
2 more tbsp of our Lightly Toasted 7 Seed Mix for the topping
Method:
Preheat the oven to 170C/gas mark 3 and line your loaf tin with baking parchment.
Mix together the flours, baking powder, salt, oats and 4 tbsp of mixed seeds in a large bowl. In a separate bowl mix the buttermilk, syrup and rapeseed oil well. Add this to the dry mixture and stir well to create a thick batter.
Pour the batter into your prepared tin and push into all corners. Sprinkle the topping seeds over the top and very gently push to adhere them to the mix. Bake on the middle shelf of your oven for 45 minutes to an hour, or until the mix springs back when you press the top.
Remove from the oven and leave to stand in the tin for 15 minutes. Remove from the tin then let the loaf cool (if you can wait that long). Serve in slices with lashings of butter, or with cheese or jam – all versions are simply delicious.